NEET 2023 Result out at neet.nta.nic.in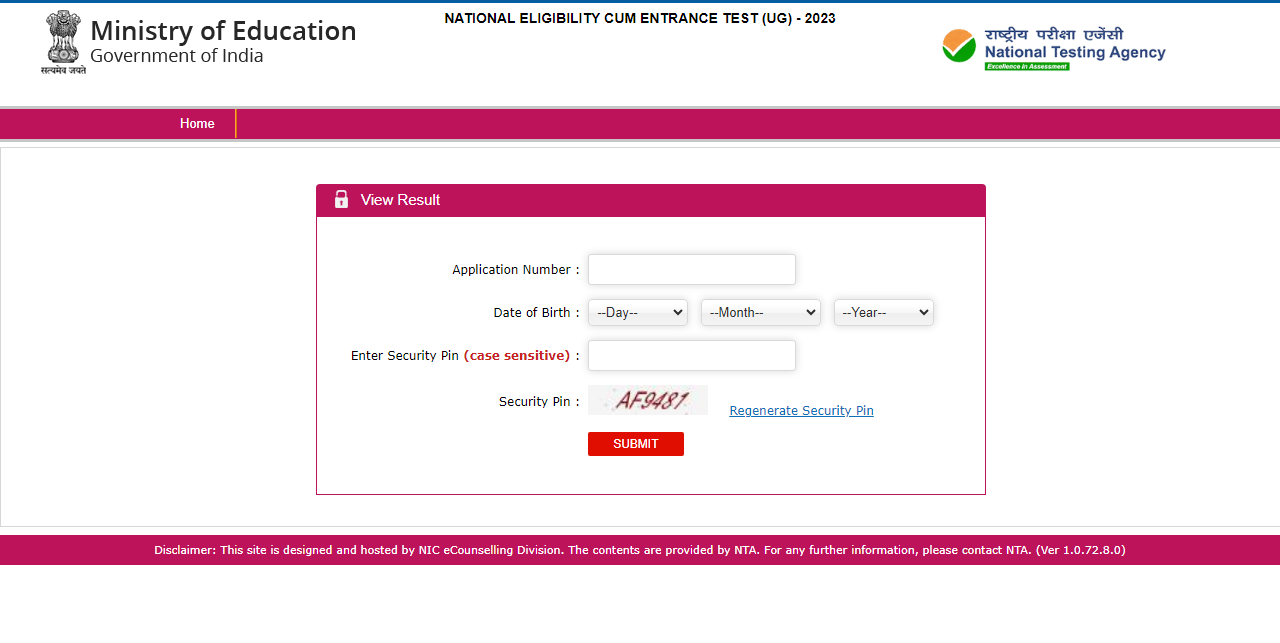 The National Eligibility cum Entrance Test (NEET) 2023 results were declared today, leaving anxious students and parents on the edge of their seats. NEET, the highly competitive medical entrance exam, serves as a gateway for admission to undergraduate medical and dental courses across India.
Check the result here: NEET Result 2023
With millions of candidates vying for a limited number of seats, the announcement of NEET results is a significant event in the lives of aspiring doctors and dentists. The results, which are available on the official NEET website, reveal individual scores, ranks, and percentile secured by candidates.
This year's NEET examination witnessed a record-breaking number of applicants, reflecting the growing interest in the medical profession. The exam, held on May 7th, 2023, tested students in Physics, Chemistry, and Biology. The rigorous evaluation ensured that only the most capable candidates would be admitted to prestigious medical institutions.
After the release of the results, candidates will have the opportunity to participate in counseling sessions conducted by the respective state and central medical authorities. These counseling sessions enable candidates to choose their preferred colleges and courses based on their ranks and the availability of seats.
Check the result here: NEET Result 2023
For those who have achieved excellent results, the dream of pursuing a career in medicine becomes a step closer to reality. However, it is essential to note that success in NEET is just the beginning of a challenging journey in the medical field. Years of dedicated study, practical training, and commitment lie ahead for these aspiring doctors and dentists.
On the other hand, for those who may not have achieved their desired scores, it is crucial to remember that NEET results do not define their worth or potential. There are alternative pathways and options available to pursue a career in healthcare, such as allied health professions, research, or even reappearing for the exam in subsequent years.
Check the result here: NEET Result 2023
As the NEET 2023 results are now public, students are advised to regularly check the official NEET website for updates and instructions regarding the counseling process. It is essential to stay informed and follow the prescribed procedures to secure admissions successfully.
The release of NEET results marks a significant milestone for thousands of students across the country. It is a time of celebration, reflection, and decision-making as they embark on their chosen paths in the field of medicine.
NEET Cut off 2023 - All details
| | | |
| --- | --- | --- |
| Category | Qualifying criteria | NEET cutoff 2023 |
| UR/EWS | 50th Percentile | 720-137 |
| OBC | 40th Percentile | 136-107 |
| SC | 40th Percentile | 136-107 |
| ST | 40th Percentile | 136-107 |
| UR / EWS & PH | 45th Percentile | 136-121 |
| OBC & PH | 40th Percentile | 120-107 |
| SC & PH | 40th Percentile | 120-107 |
| ST & PH | 40th Percentile | 120-108 |