BDS Admission is going on for NEET 2023 qualified | HCDSH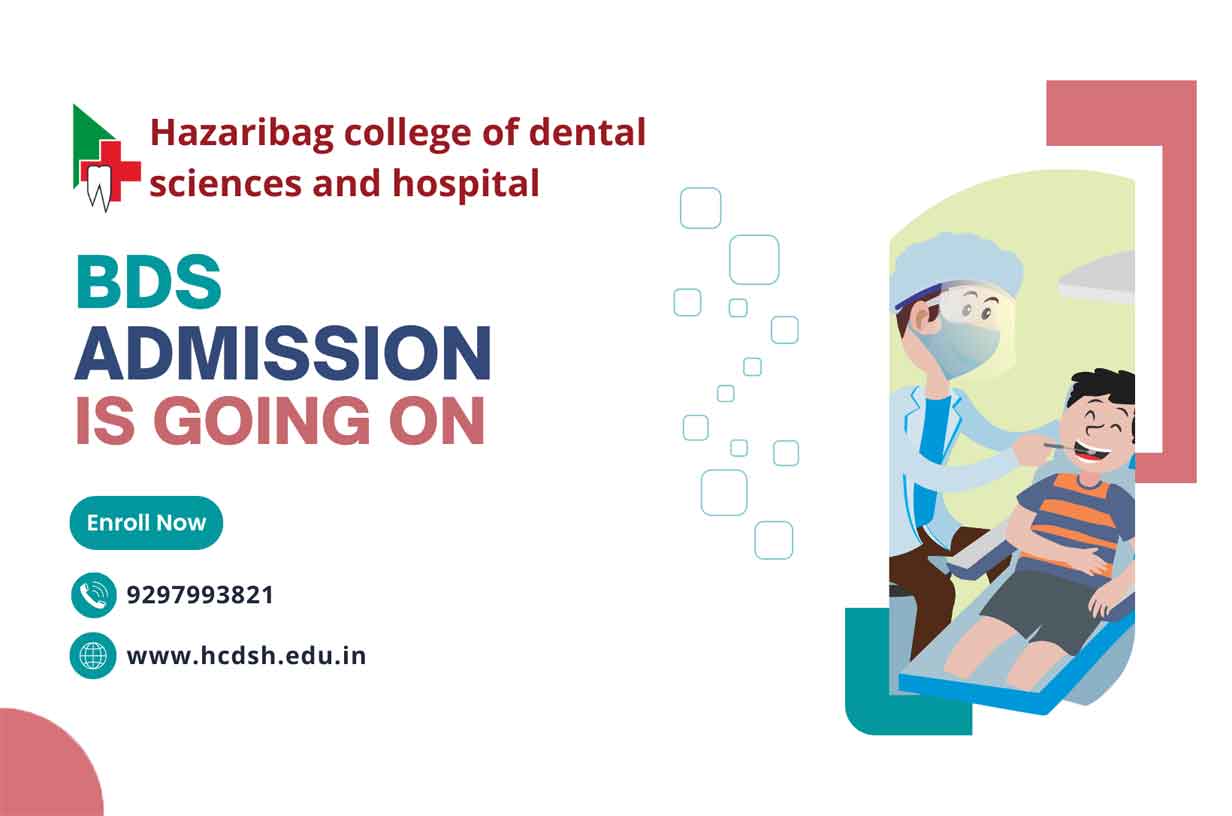 In a significant development for aspiring dental students, Hazaribag College of Dental Sciences and Hospital has officially commenced the admission process for Bachelor of Dental Surgery (BDS) programs. The college has opened its doors to NEET-qualified students, providing them with an opportunity to pursue their dental education at one of the prestigious institutions in Hazaribag.
With the announcement of BDS admissions, Hazaribag College of Dental Sciences and Hospital aims to attract the brightest minds in dentistry from across the country. The institution has established itself as a center of excellence in dental education, offering state-of-the-art facilities, experienced faculty, and a comprehensive curriculum.
Prospective students who have cleared the National Eligibility cum Entrance Test (NEET) can now apply for the BDS program at Hazaribag College of Dental Sciences and Hospital. NEET is the foremost national-level examination for admission to undergraduate medical and dental courses in India, and the inclusion of NEET-qualified students will ensure a highly competitive and accomplished student body.
The college offers a comprehensive four-year BDS program that focuses on providing students with theoretical knowledge, practical skills, and hands-on experience in dentistry. The curriculum covers various disciplines, including dental anatomy, oral pathology, orthodontics, prosthodontics, oral surgery, and community dentistry, among others.
Dr. K. Shri Krishna, the Principal of Hazaribag College of Dental Sciences and Hospital expressed his excitement about the admission process. "We are thrilled to welcome NEET-qualified students to our institution. Our goal is to nurture and empower the next generation of dental professionals, and we believe that by opening our doors to NEET-qualified students, we will attract the best talent and provide them with a robust learning environment," he stated.
The college administration has emphasized that admission will be based on merit, with NEET scores and performance in the counseling process being the key factors in the selection of candidates. Interested applicants are advised to visit the official college website or contact the admissions office for detailed information regarding eligibility criteria, application procedures, and important dates.
Hazaribag College of Dental Sciences and Hospital has emerged as a beacon of dental education in the region, and the commencement of BDS admissions for NEET-qualified students further solidifies its commitment to excellence in dental training. Aspiring dental professionals now have a remarkable opportunity to receive a world-class education and shape their careers in dentistry at this esteemed institution.
Contact: Hazaribag College of Dental Sciences and Hospital
Address: Demotand, Hazaribag, 825301
Phone:  06546 233409
Email: hcds.hospital@gmail.com
Website: hcdsh.edu.in